Welcome Primitve Friends
to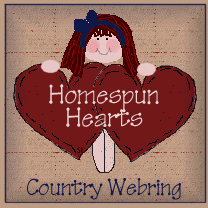 Homespun Hearts Welcomes You!!
Homespun Hearts Country Sitering was created on October 19th, 1999 by me, Shana from Primitive Samplings by ShanaLeah and Heather from Heather's Country Cottage.


July 24, 2002

Some changes have taken place so please bear with me. Unfortunately since I too am very busy with a full time job, wife, mother and keeping up with my graphics and crafts, I am unable to carry on with the newsletter, site of the week award and member quilt squares. Hopefully down the road we can pick up again but for now I will just have to let that go. Thank you for understanding and for your continued support.
Anyway, I am so excited to see our webring growing by leaps and bounds in such a short time! I want to thank to all our wonderful recruiters out there and everyone who helps out whether it be our recruiting or welcoming commitees, I couldn't do it with you!!! ((((GREAT BIG HUGZ))))
Come in and visit our home!!



Webring Application






Graphics courtesy of Primitive Samplings by ShanaLeah
Graphics and page layout Copyright, 1999, 2000, 2001, 2002, 2003 Homespun Hearts Country Webring